CURRENT LIMITING FUSES
The current limiting fuse (center bolt to center bolt terminals) can be used at the transformers exit , by the low tension side (Máximum 600 V.A.C.) over each one of the conductors used as feeders to the distributin panel in combination with the low tension breakers.
The current limiting fuses are manufactured in a conductor range from 2 AWG to 750 M.C.M., at each extreme of the conductor, as to insulate the system in case of failure.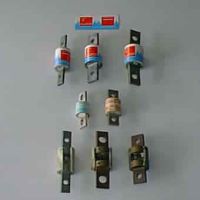 The current limiting fuses allow the required protection to the distribution network in case of failures such as:
FAILURE GROUNDING
OVERCHARGES
NET SHORT CIRCUITS PHASE TO PHASE
| | | | |
| --- | --- | --- | --- |
| CATALOG | CONDUCTOR (AWG) | AMPERES | V |
| A25 L2 | 2 | 175 | 240 |
| A25 L1/0 | 1/0 | 250 | 240 |
| A25 L2/0 | 2/0 | 300 | 240 |
| A25 L3/0 | 3/0 | 400 | 240 |
| A25 L4/0 | 4/0 | 500 | 240 |
| A25 L250 | 250MCM | 550 | 240 |
| A25 L350 | 350MCM | 600 | 240 |
| A25 L500 | 500MCM | 650 | 240 |
| A25 L750 | 750MCM | 900 | 240 |
| A60L 4/0 | 4/0 | 500 | 600 |
| A60L 250 | 250MCM | 550 | 600 |
| A60L 350 | 350MCM | 600 | 600 |
| A60L 500 | 500MCM | 650 | 600 |
| A60L 750 | 750MCM | 900 | 600 |

back